The all-in-one residential energy storage system integrates battery, inverter, charging, discharging, and intelligent control together in one compact metallic cabinet. It can store electricity converted from solar, wind and other renewable energy sources for residential use. Meanwhile, it can optimize electricity management through an intelligent control system to improve energy efficiency and reduce electricity cost. All components are pre-assembled at our factory, ensuring the final product meets rigid quality and safety standards.
Features:
Ready-to-use
As one package combining inverter, battery and accessories, it enables operation after the plug-in of connectors.
Compact & Aesthetic
Compact design saves your space, while slim appearance fits your home's aesthetics.
Modular
The battery system is modular and can be expanded to exactly meet your energy storage demand of future.
Datasheet:
Inverter :
Offgrid type 3kw / 5kw
Modular
The battery system is modular and can be expanded to exactly meet your energy storage demand of future.
Lifepo4 cell 3.2v 104AH
Standard charge and discharge : 0.5C -1C
Pack : 16S1P
Voltage : 51.2V
Capacity : 104AH
Single Module Power : 5.32kwh
Working Current : 90-100A
Battery System Size : W670*D176*H453 mm
IP Grade: IP54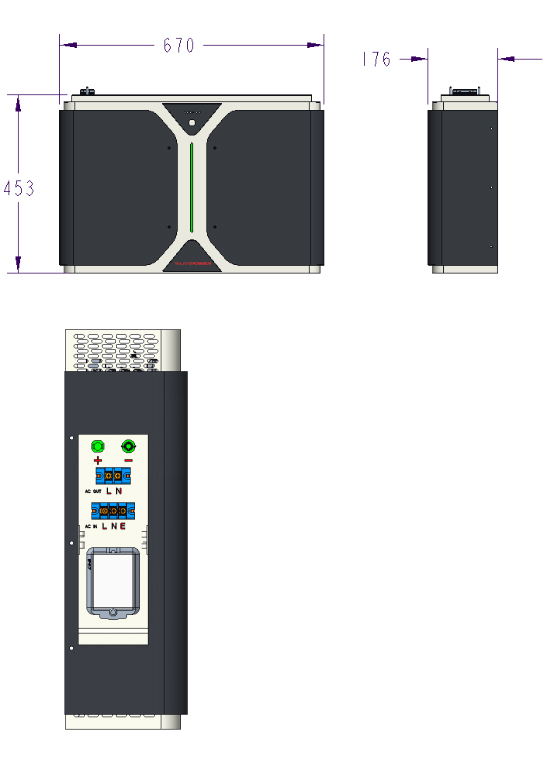 ---
Post time: Oct-08-2023