Description:
50KWh Solar Energy Storage Battery , 48V 1000AH Lithium Battery Bank with RS485 Communication Rack Style
Compared with the same capacity lead-acid battery, LiFePO4 battery is 1/3 smaller in size, 2/3 lighter in weight, 5 times longer in cycle life, more economic and eco-friendlier. LiFePO4 battery replacing Lead acid battery is an inevitable trend.
YOUTHPOWER developed Rack style and Powerwall style lithium-ion battery bank with excellent safety, high energy density, cell voltage detection, which could be connected with BMS to monitor the matter as well, is most suitable solution for energy storage.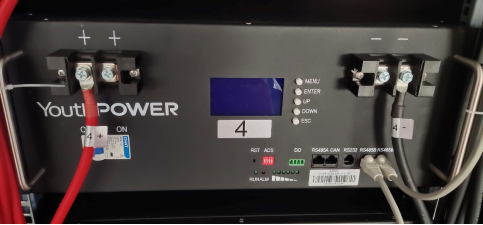 Overview: 
With the emergence of wind & solar power and other new energy sources, the development of intelligent grid technology as well as the large -scale energy storage station is becoming to meet peak power allocation. Youthpower is developing environmental-protection lithium-ion energy storage battery with the lightest, fast charge and discharge, cycle life more than than 6,000 times to meet the future demand of energy storage stations and new energy vehicle charging stations. Youthpower strives to become an advanced enterprise in the energy storage battery industry field.
Company advantages:
1. Advanced LiFePO4 lithium battery technology system ensure the correct technical direction and advanced leading technology.
2. Excellent procedure quality tracking control system ensure YOUTHPOWER battery's excellent performance and good consistency.
3. One-stop lithium battery system solutions. YOUTHPOWER research and development team include electronic engineer, mechanical engineer, structure engineer, whom could offer our clients one stop solutions including BMS, charger, battery pack structure, and overall applications.
4. Intimate and in time reacting service system. We always try to offer more than expected and do more than required.
---
Post time: Nov-09-2023